Must. Not. Ahhhh! Get. In. Christmas. Mmmmppph! Spirit. Before. Arrrrrgh! Thanksgiving!
I'm trying. Oh, Lord, how I'm trying. There's still too much of November to love. It just got here, for heaven's sakes — how can you be so rude as to invite it in and then send it right out the back door the minute it arrives?
No, I say. No! There are still pumpkin muffins to be baked, apples to be crunched, fig-related things to be eaten, bittersweet branches to be wrapped around tarnished candlesticks, leaves to be scattered, and raking to be (un) done.
I don't care if the Christmas commercials started on NOVEMBER FIRST this year. (Sheesh.) I'm not having it. December, you're all snowy and tinsely and sparkly and jolly — but you'll have to just stay outside and wait for my invitation. I'm gonna sit a spell with November and visit for a while.
When I was a kid, a simple swag of Indian corn on the front door signaled fall. My mother bought one every year, and hung it on a nail with a wired orange ribbon. I forgot to pick up corn this year, but I just might think about making this with the kids during the week of Thanksgiving. Great idea from Better Homes & Gardens — visit www.bhg.com for the directions.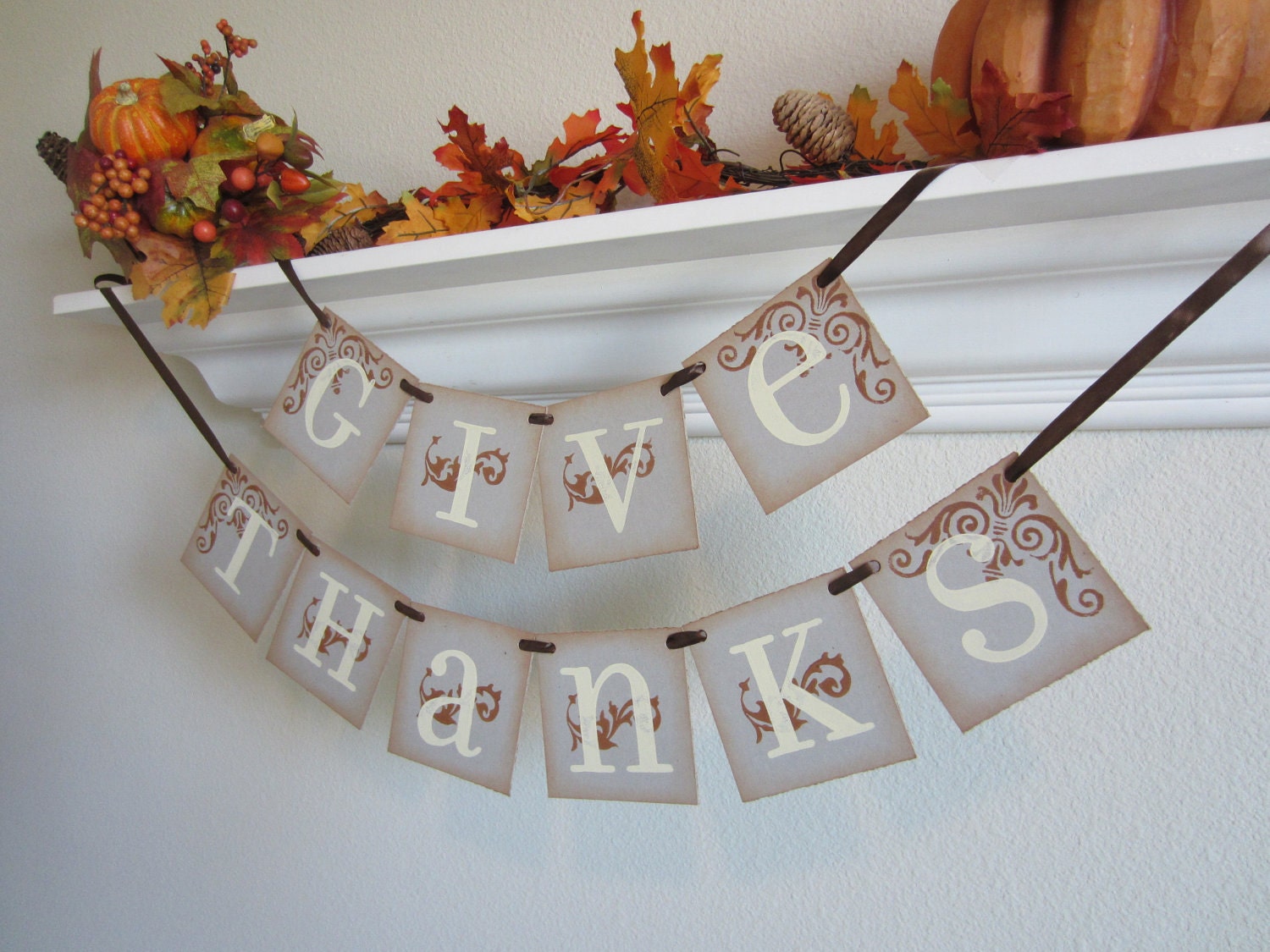 I just love a banner. It's a minor compulsion. I can deal with it if I want to. But I don't. I just love the garlandy-garlandness of it. Hopefully this won't burst into flame above the fireplace. From etsy.
What says fall better than a pumpkin pie martini? Well, lots of things, actually. But that's not important right now. I'm picturing myself basting the turkey and frothing up the roux for creamed onions while I sip this contentedly on Thanksgiving Day. Any cocktail with a cinnamon sugar rim is just dandy in my book. I'm a girl. I know. But I look cute in an apron.
1 oz. pumpkin liqueur or pumpkin-flavored syrup
**If you can't find pumpkin liqueur or flavored syrup, try using 1/2 oz. of spiced rum, such as Captain Morgan, 2 Tbsp. canned pumpkin puree and 1/4 tsp. pumpkin pie spice
Mix together the sugar and cinnamon. Dip the the rim of the martini glass in a bit of pumpkin liqueur, then place the glass rim into the cinnamon and sugar mixture until the rim is coated.
In a cocktail shaker filled with ice, combine the vanilla vodka, cream liqueur, and pumpkin liqueur or syrup. Shake vigorously for 15 to 20 seconds. Strain into the rimmed glass, sprinkle with cinnamon or nutmeg and garnish with a cinnamon stick. Enjoy!
This might be the year that I finally make my husband's heart swell and fix him an apple pie from scratch. They're so easy, these boys. Fill those bellies up good and they're yours for life. I'm liking this recipe for caramel apple pie with mile-high apple slices. From Better Homes & Gardens. Check out www.bhg.com for the how-to.
Hopefully, if the pie comes out well, the old man will write on one of these paper leaves from Paper Source that he's grateful for me. Or at least my cooking skills. Or at least that I didn't have too many pumpkin pie martinis and end up with my head in the turkey carcass like Joey from "Friends." I think it's a sweet tradition to pause on Thanksgiving and make note of what we're thankful for, right before we all unbutton our pants and pass out in front of the TV. Ah, another Harris Family tradition.
I hope all of you enjoy the
cinnamony, crispy, crackly, appley, snuggly, smoky, sweatery
moments of fall.