Here at Inspiration Point, we're planning on re-vamping our living room. It's been ten years, and we still don't like sitting in it so much…even though we've really, really tried. We rushed to decorate the room when we first bought our house, and boy, did we screw it up. Armless loveseats? What the hell were we thinking?
We just had a gas insert installed in our suddenly not-working woodburning fireplace, which made us want all the more to create a room that called for cozying up with books and cocktails and swanky hors d'oeuvres and Christmas presents to open and heaven knows what else we can think up.
We were a little bit traumatized after the whole armless loveseat incident, so we enlisted the help of a wonderful designer — Holly Mathis — who does virtual consultations from her home in Texas.
We're still in process, but man, do we love her and her ideas. I think I've mentioned her before, but I'll mention her again. Check out her lovely, lovely website and even lovelier ideas at www.hollymathisinteriors.com.
With Holly's help we (which would be me) started putting together a virtual pinboard of things we love and she added to them as well.
One of her suggestions is this chocolate velvet Chesterfield sofa from Restoration Hardware. I'm dreaming about it at night and wondering how I can make it my own…and keep the dog from sleeping on it if we put it in front of the fireplace…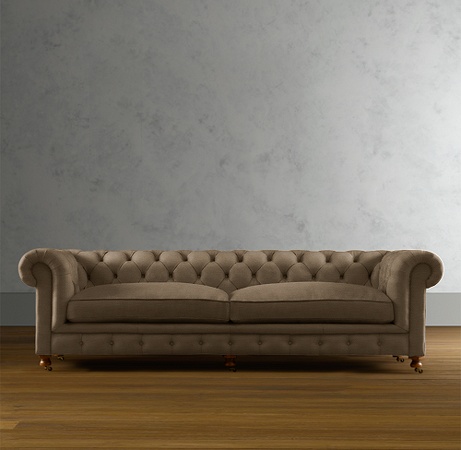 I found this sweet, sweet Parisian club chair in a store in New Jersey. It's on casters! And the leath-uh? Like butt-ah!
(We interrupt this regularly scheduled blog to bring you this new fall favorite of Kathleen's…suddenly, I can muster the courage to sit through an early-morning soccer game with my trusty coffee in hand, thanks to this swingy, sweet blanket cardigan from Sundance.)
Ok…back to the living room…
One idea which I'm loving and getting all verklempt about but still trying to figure out how to implement it in the living room…
If you're a native New Yorker like myself, and can claim city ancestry for the past 60 years or so…then think about visiting www.nyc.gov and clicking on a link at the bottom right of the home page labeled "You Can Get Historic Photos Online." The City photographed every house and building in the five boroughs between 1939 and 1941, and again in the mid-1980s.
I focused on the earlier era and ordered photos, lots of photos — ones of my great-grandfather's row house in Carroll Gardens, Brooklyn, of my grandparents' house in Queens Village (see below), of the house where my father grew up in Flatbush, Brooklyn (further below), and nearly wept at the sight of the massive, double glass-front oak doors that my grandparents had to remove when crime skyrocketed in the 1970s. I ordered a print of the first place I ever called home — a six-story prewar apartment building in Inwood, Manhattan, but the view was long before my pram ever got parked there. I've collected about eight or nine photos from my family history — as well as a copy of the first apartment my hubby and I lived in together in the West Village when we were married. It's remarkable to see these places, so familiar and yet so unknown, when viewed in a different era.
Some of the photos have blurry shots of men in fedoras in the background, captured unknowingly. There's a jalopy parked in front of the two-family house we lived in on 74th Street in Glendale. The one of my old apartment building in Inwood features a couple of hoodlums standing in front of the double doors on Cooper Street, looking like they're up to no good, and sneaking a quick look back at the photographer over the turned-up lapels of topcoats. The picture below is my cousin's house in Queens, with the previous owner sitting on the stoop. My cousins exclaimed her name like that of a long-lost, suddenly found friend when I showed them the picture.
It's proof of the ghosts I always feel around me when I walk the streets of New York, of the thousands of souls who went about their daily existence on stoops and fire escapes, who are left only as shadowy figures in simple photographs and other people's memories. So say we all.
It's $15 for each print, but to me, it's well worth the investment.
I'll be framing them and hanging them somewhere in the house. Just don't know where yet, but eventually, they'll tell me where they should go.